You might be surprised to know that how to polish marble countertops is a process similar (but scaled down) to polishing marble floors. Both utilize power operated equipment, however, polishing marble counters, vanities, backsplashes and kitchen islands can be handled through attachments to a power tool you may already own — a car paint polisher.
Polishing power tools, like an orbital buffer are relatively inexpensive and can be purchased any place that sells power tools for around and upwards of $30.00 depending on the brand and features.
Why has your Marble lost its Luster?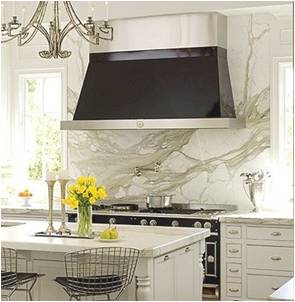 Before undertaking the polishing task it's good to know the reasons your marble is displaying a dull finish.
Ruling out an obvious reason is that your marble has a "honed or matte" finish and not a "polished" finish which gives it that high gloss appearance.
If your marble is indeed polished and appears dull over time, then getting that shine back can be fairly easy provided the reasons for your marble's lack of luster isn't related to acidic damage, moderate etching, breakage or fillers.
A good polishing can definitely undo a waxy buildup or remove light surface scratches which have a tendency to show up with continued use.
You certainly don't put coasters, to protect the finish, under your hair dryer, your electric toothbrush or under small kitchen accessories when you use them.
How to Polish Marble Countertops
Step 1 – Clean the Surface
Before polishing a marble surface, clean it to remove any buildup, with a product specifically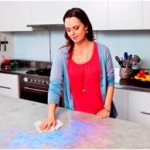 formulated for marble care. One thing people may not realize is that even the spray from glass cleaner, used in cleaning the mirrors over your bathroom vanity, can actually etch your marble's surface.
Because marble is a calcite-based natural stone, using any other type of cleaning solution may cause a damaging interaction with your marble's surface.
Removing any buildup or stains will eliminate the risk of polishing over contaminants or forcing them deeper into this porous natural stone.
Step 2 – Buff out scratches and surface wear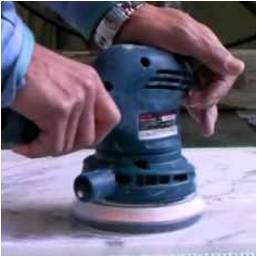 Because friction and abrasion were used to create the original high polish of your marble surface, you need to apply a product that will perform that same function.
Purchasing a marble polishing powder / etch remover and applying it with the use of a 6″ orbital buffer will restore your high polish and remove light surface etching.
TIP: Purchasing a hand buffer, if you don't already own one, is less expensive than renting one.
It's not the polishing powder itself that causes the shine (similar to what you would expect with a furniture polish) but rather the compounding action of the mildly abrasive powder and the friction of the orbital action buffer that actually reworks the surface of the stone to a high gloss.
The key to working with a polishing powder is to work it with the buffer while wet and not let it dry. The pads used in buffing natural stone are different than the ones you would use for automobile paint polishing.
The amount of pressure used on the orbital buffer should be light and no more than what it takes to keep the buffing pad attached. It is not necessary to pressure down hard on the buffer to achieve results.
Adjust your buffing time to remove any additional etching that might have been missed. The overall length of time buffing is contingent on your desired result.
Step 3 – Apply sealer
After buffing the wet powder into the marble you'll notice the surface shine return. Wipe the surface clean with water and a damp cloth to remove all traces of the buffing powder. If you've achieved the shine you were looking for then you can seal the surface with a penetrating sealer.
One of the best sealers, that I've found, with the highest available residential warranty of 15-years is available from Dupont. You can check out the product and their warranty HERE.