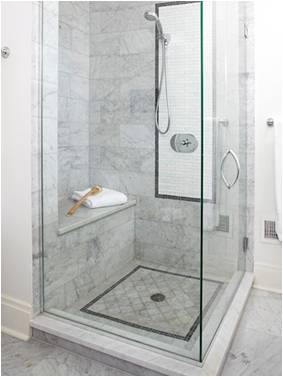 If you're frustrated with soap scum and water stains then you already know how to clean marble shower walls can be a headache.
Having made a sizable investment in this beautiful natural stone, you're clearly savvy enough to seek out the appropriate steps to ensure its luster and preserve its beauty.
The internet is full of misinformation — which I'll try to clarify here — and there are plenty of vendors who swear their products are the ones to use.
Here are some of the facts about marble care, also covered in countertop and marble floor care, to head you in the right direction.
Because marble is the by-product of limestone, it's an absorbent material by nature.
To extend the life of natural marble installed in a bath or shower, the stone surface should be sealed with a mold and mildew inhibitor or penetrating sealer. This will make the marble more maintenance-friendly.
There is a difference, however, between a penetrating sealer and a topical sealer. Topical sealers, unlike penetrating sealers do not permit the marble to breathe and will actually cause the marble surface to be more susceptible scratching.
TIP – No sealer will make marble stain-proof or water-proof, only provide stain or water resistance to promote easier maintenance.
Here are some important considerations when taking your marble maintenance head-on.
How to Clean Marble Shower Do's
Wipe down with a dry towel or squeegee the water off marble shower walls after each use – the mineral deposits in water and the chemical components in shampoo, body wash or shaving creams and gels will damage marble's impressionable surface if left unattended.
For light touch-up cleaning, use DISTILLED warm water and a chamois. The chamois will not only absorb the water but will aid in adding a polish to the marble surface.
Do use a pH neutral soap scum remover recommended for use on marble and other natural stone surfaces. TIP – Dampen the marble surface with clear water first before applying the soap scum remover. This keeps the cleaner on the marble so it works better.
Do use No. 0000 super fine grade steel wool for stubborn water stains or mineral deposits but take care not to rub too hard.
Do use a soft nylon bristled brush or a sponge for superficial stains and regular cleaning as alternatives to a damp cloth.
Do use a mold and mildew stain remover, if needed, specially formulated for natural stone like marble.
How to Clean Marble Shower Don'ts
Do not use vinegar on NATURAL marble. Vinegar, while suitable for cleaning a lot of other surfaces (even granite, if diluted), will etch or dull the surface of NATURAL marble because it is acidic. Vinegar CAN be used on CULTURED marble.
Do not use off-the-shelf bathroom cleaners i.e., Tilex, Softscrub, Clorox Bathroom Cleaner or similar products in a marble shower. These contain bleaches, harsh chemicals and abrasives not suited to marble's delicate surface.
Do not use scrubbing pads, like Scotchbrite or Mr. Clean Magic Eraser on natural marble as it can scratch the surface.
Do not use bleach, or ammonia products on natural marble because this will dull the surface of the marble over time.