Best Marble Cleaner Comparison Chart and Tips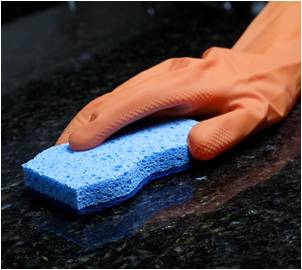 There are a few things to keep in mind when searching for the best marble cleaner.
Alkaline-based cleaning solutions for marble work the best. Because marble is porous and not as hard as some other natural stones like granite, acid-based cleaning products will DAMAGE marble and will likely produce headaches rather than results.
Articles on this website talk about how acidic products and foods will etch the surface of your marble leaving it dull and damaged and acid-based cleaners will do the same.
Another thing to remember about any cleaner for marble is that it will not polish the surface, unless specifically noted to do so and will not remove etches or scratches in a marble's surface.
In fact, cleaned marble countertops and floors may not look much different AFTER they have been cleaned.
To restore shine, polishing marble may be in order and for deep etches or scratches, you may need refinishing.
Tips for Cleaning a Marble Surface
Remove surface dust and dirt prior to cleaning so surface particles do not become trapped in marble pores and do not scratch the marble surface when they become wet
For cleaning concentrates added to water, do not exceed recommended ratios or streaking may occur
If cleaning cloths or mop heads become visibly soiled during cleaning process, be sure to rinse frequently
If not using pH neutral cleaners, wear latex or rubber gloves to prevent skin irritation
For cleaners that are not low odor emitting, adequate ventilation should be provided when cleaning
Verify that cleaner is suitable for both SEALED and UNSEALED marble surfaces
Verify that surface cleaner is safe for use in areas where food is prepared
DO NOT use a cleaner, unless specifically labeled for marble use, even if it says "multi-surface" or "all purpose"
Options for Consumer-Rated Best Marble Cleaner
Here's how the top consumer-rated marble cleaning products meet the standard for the best marble cleaner.
Included in the matrix below are 8 columns — Cleaner Image, Product Name, Cleaner Use, How Applied, Eco-Friendly, Warranty, Rating and Cost, plus any relevant comments.
The products listed in the table below are ALL suitable for marble floors and marble surfaces where noted.
Cost Legend
$= under $10
$$ = $20 or more
$$$=$21 to $49
$$$$=over $50